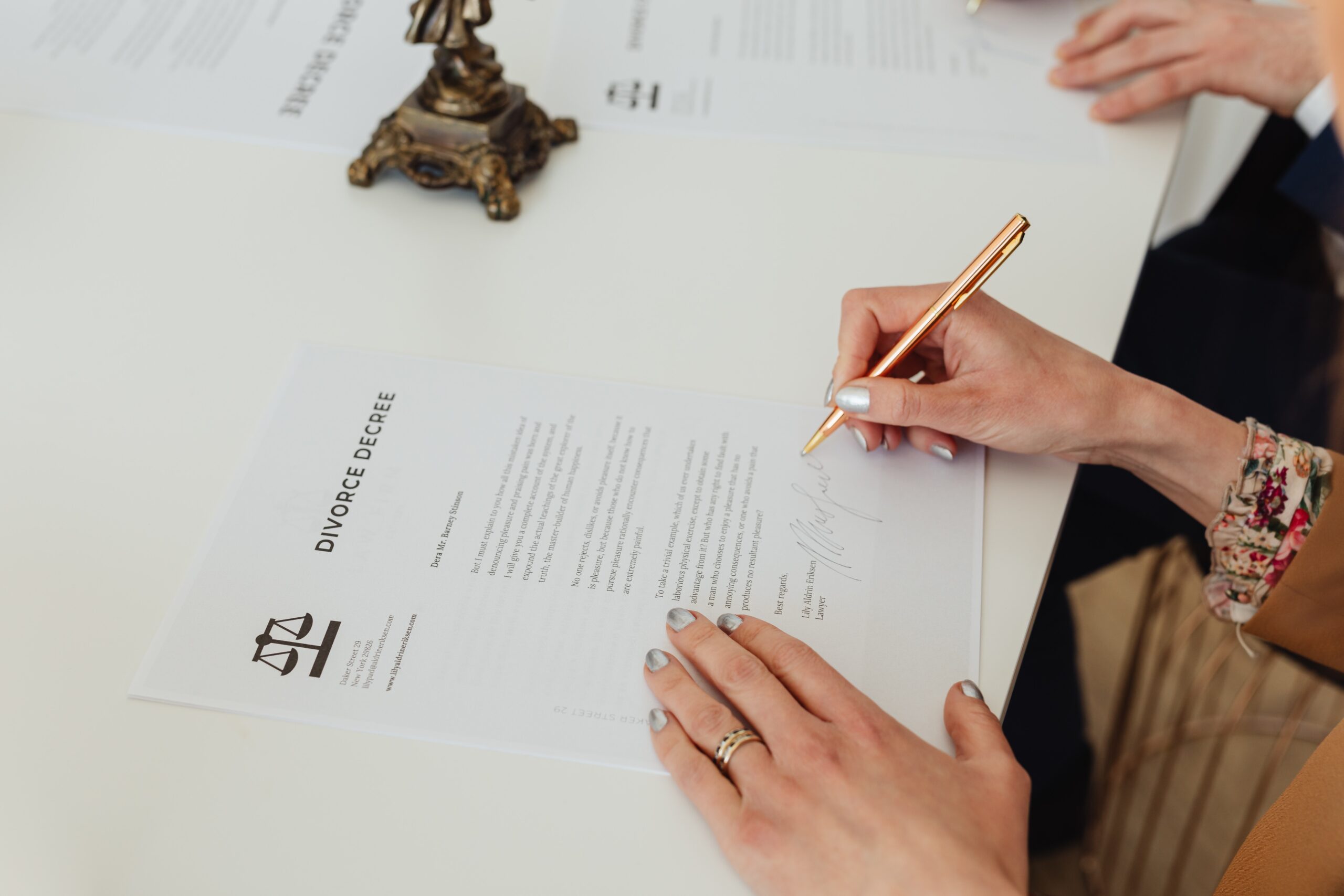 We know. Yet another technical term for you to learn as you begin the divorce process. Will it ever end? Yes, we promise it will. But please hear us out, because a divorce decree is one of the most important documents you'll encounter throughout this process.
So, what is it, exactly? What's in it? What can it be used for? We'll do our best to answer these questions and more, below.
What is a divorce decree?
A divorce decree is the document, signed by a judge, that officiates the terms and makes your divorce final. Essentially, it specifies who gets what. It is filed with the county clerk, in the county where the divorce was filed, and is prepared by the court or an attorney. In some states, divorce decrees are called divorce judgments.
Divorce decrees are issued in both uncontested and contested divorces.
In an uncontested divorce, spouses are able to reach an agreement about the terms of their divorce. They may hire a mediator to help with their negotiations and reach this consensus. Those agreed-upon terms constitute what is known as a marital settlement agreement, which is presented to a judge. The court or an attorney draws up a divorce decree, and the judge signs it, thereby finalizing the divorce and legalizing the terms.
In a contested divorce, spouses cannot agree about the terms and are often unable to communicate civilly, so mediation isn't an option. In this scenario, each spouse hires their own lawyer to argue on their behalf in court. After both sides present their case, the judge determines the terms of the divorce. As in an uncontested divorce, at that point the court draws up a divorce decree and the judge signs it.
In some states (such as Florida, Texas and New York), there is a mandatory 60-day waiting period between the date of the filing and the date the divorce decree is signed. It's a good idea to check the specific regulations and waiting periods in your home state or to speak to a lawyer who can walk you through them. 
What's included in a divorce decree?
A divorce decree is a long, detailed document that includes the division of all assets as well as protected, confidential identifying information belonging to yourself and your spouse.
It includes orders regarding property division, child support, child custody, visitation of any minor children, spousal support, life and health insurance policies and sometimes more, depending on the divorce and the assets involved. The terms can be relatively simple and straightforward, or they can be more complicated and include very specific orders. 
Do I need a lawyer for help with a divorce decree?
The short answer is, you should at least meet with one before deciding which divorce method is right for you.
If you choose mediation, there's less need for a lawyer to fight for you. However, they can help you understand the process and your rights and help you negotiate with your spouse.
If your divorce is contested, your needs tend to be best protected if you're represented by a lawyer in court. The stakes here are high—we're talking spousal support, property division, child support, child custody and sometimes more. You want to make sure that you have access to all the information and support you could possibly want, so that you can walk away from your divorce with everything you deserve.
What will I use my divorce decree for?
Essentially, if you wish to return to court for any reason pertaining to your divorce or if you need to show proof of divorce or ownership of your assets, you'll need to present a copy of your divorce decree.
You may consider bringing your case back to court if:
Your spouse violates the terms of your divorce.
There's a change in the circumstances of your life or your spouse's. For example, one of you gets a new, higher-paying job that could affect the terms of your child support.
There's a change in circumstances that affect your child custody needs, such as one spouse moving away or a domestic violence issue.
A divorce decree can also be used to change:
Your will
The beneficiaries of your insurance policies
Your power of attorney
Any joint accounts back to your own name
Where can I get a copy of my divorce decree?
You should be able to access a certified copy of your divorce decree by contacting the county clerk where the divorce was filed. (A certified copy means it's verified by the court.) You can do this through your state's health department, either online or by mail. Most counties charge a small fee for this copy.
Can a divorce decree be changed?
Yes, a divorce decree can be modified. However, for a divorce decree to be changed, there must be proof of a tangible and substantial change in circumstances since the document was initially signed. For example, a spouse losing a job may warrant a modification of spousal support if the case is brought back to court.
Divorce decrees may also be changed if one spouse can prove that the other committed fraud (whether by presenting false evidence or otherwise to the judge) that may have directly affected the judge's decision. Similarly, if one spouse threatened or intimidated the other and there's proof to that end, a judge may consider revisiting the terms, though there are time limits on these types of claims.
Divorce decree vs. divorce certificate: What's the difference?
While a divorce decree is a long, complicated document that lists all the terms, a divorce certificate is a simple document that includes very few specifics or protected identifying information about the divorced individuals. It only lists the names of the spouses and the date and location of their divorce.
As a reminder, a divorce decree contains important confidential information about your assets and is necessary to have if you decide to bring your case back to court or if you're required to show proof of ownership over your assets.
A divorce certificate can be used:
To change your name
As proof of your single status if necessary regarding estate planning or inheritance
To obtain a travel visa or a passport
As proof of eligibility if you're preparing to remarry
Are there any other issues involving divorce decrees?
Since divorce decrees contain confidential information, be conscious about what you do with it, who you give it to and when it may be better to use a divorce certificate.
Note that if you change your name after your divorce, you should contact the county clerk to make sure the document is modified to reflect that change. If not, you may encounter problems using it in the future.
Talk to a divorce attorney
The terms of your divorce decree will matter for the rest of your life. So a good first step when considering a divorce is speaking to a divorce attorney who can provide clear, trustworthy advice. If you decide to hire a lawyer for the process, they'll be in your corner fighting to protect you and your children.
At the same time, legal representation can be expensive. Some lawyers charge an astronomical hourly rate, with lots of hidden fees sprinkled in.
At Marble, we charge per service so you only pay for what you need, and we offer payment plans to accommodate your financial needs. We want you to let your experienced legal team handle everything so you can focus on yourself and your family. We're here to help you get through this.